Content overview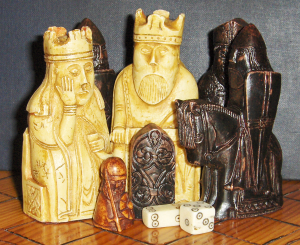 The name of this website, Leikmót, is an old norse term and means play-meeting or public athletic meeting. It deals mainly with games and sport disciplines, which were common in northern Europe during the 9. until 13. the century . The Leikmót were usually held in fall, especially during the Haust- or Vetrnóttablótar. The Haust- or Vetrnóttablótar were a kind of harvest festival at the end of summer and at the beginning of winter on the first full moon in october. (At this time the year was only divided into the two seasons summer and winter.)
In some respects are the Leikmót the norse equivalent to the olympic games of the ancient Greeks.
In this Spirit:


Let the Games in honour of Tiu begin!
* * *
King's Table - Hnefatafl
Halatafl
The History of Tafl
References
Disclaimer
Privacy Policy
Home